In Late December of 2020 I woke up to the futility of continuing with my relationship of twenty-five years. With the realization that change in the relationship was unlikely, I gave up and we commenced the divorce process.Divorce is rarely pleasant and my experience was also unpleasant. In the end I got the house and she got my cash.
Once we were divorced I began to see, feel and understand the lengths I had gone to be the accommodating spouse, sublimating my desires to get along. And, that leads to the title of this story. Changing Change into a Piano.
After she had moved I had a yearning to reinvigorate myself and the house. I lit sage to clear the energy of the house and decided I would invigorate myself and the house with music. I yearned for a piano, a piano that sings from it's soul, a quality piano, a piano with a history.
There had been a couple of years when I baby sat a Yamaha Concert Grand, a piano that had once been THE Yamaha piano in the Pacific Northwest -- the "touring" piano. It would be moved from venue to venue so fine was that piano. Playing such a fine piano is like having a mystical experience, you always remember it. When this piano ultimately left me and returned to it's owner I felt a great loss and I didn't play for several years.
So, I found myself divorced, on a budget, and thinking about a piano. I grew up in a home that emphasized frugality. Both of my parents had grown up in the depression and I was instilled with those values. My ex called me cheap but really I am a simple person without need to buy things to assuage my traumas. So, at that moment I wanted to live within my means and that meant a piano was not in my budget. Yet, something, some voice within me said "look for a piano". So I did. I looked in many places and one day I found on Craigs List a 1904 Chickering Baby Grand piano in a piano storage facility in Spokane. The piano was owned by a delightful woman named Mary and it had been her piano for decades (I will be talking with her about this piano and will write up its history sometime). She and her husband were living in Phoenix with her son. It was time for the piano to find a new home.
After talking with her son and her I did what is never done, I committed to buying the Chickering and transporting it to my home without ever hearing or playing it. Almost no one buys a piano they have not played. I did. After sending off a check for $1000 as a down payment I started wondering how I was to pay for the rest owed, and stay within my budget. One day, shortly thereafter, I thought about two boxes in my closet. Each of these boxes contained many Costco plastic nut containers all filled with spare change thatI had been saving since 1985. These boxes were so heavy that the muscular moving guys had been unable to pick them up. At that moment I decide to change the change into music, into a piano.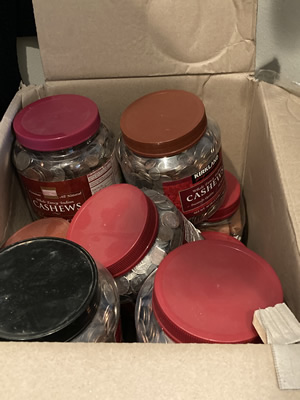 I next went to my bank of forty years, Olympia Federal, and gathered quarter, nickel, dime, and penny wrappers just in time for 18 inches of snow that would leave me stranded at home for five days. As I wrapped the coins I saved coins from every year, a remnant from my Boy Scout coin collecting merit badge I suppose.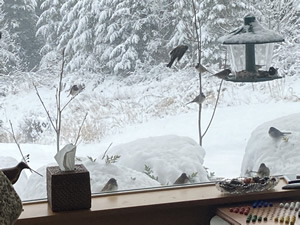 When after a couple of weeks I had completed the packaging of the dimes, nickels, and quarters I tabulated and discovered they represented over $2500. One day I took all those coins to the Yelm Highway branch of Oly Federal. The delightful employees in that branch had never had such a number of boxes of coins brought to their branch. I wondered if they might have thought I robbed parking meters.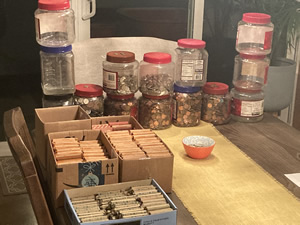 Now that is pretty much the story. It took weeks to arrange and weeks more to get the piano moved to my house. When it arrived it reminded me of me. It has dings, scratches and marks on its body -- just like me. Both of us have been around a long time and I'm relatively young next to a 117 year old Chickering.
I'm thrilled I can care for this piano until someone else takes my place. I am hoping to have many years together before it must move on.
And now, music now fills my home. The Chickering sounds wonderful. It sings!