What advice can we glean from the Masters?
Let's begin with Buddha
We are shaped by our thoughts we become what we think.
Every morning we are born again. What we do today is what matters most.
There is no path to happiness. Happiness is the path.
Health is the greatest gift, contentment the greatest wealth, faithfulness the best relationship.
If we could see the miracle of a single flower clearly, our whole life would change.
Do not dwell in the past, do not dream of the future, concentrate the mind on the present moment.
If anything is worth doing, do it with all your heart.
Lao Tsu
I have just three things to teach: simplicity, patience, compassion. These three are your greatest treasures.
Treat those who are good with goodness, and also treat those who are not good with goodness. Thus goodness is attained. Be honest to those who are honest, and be also honest to those who are not honest. Thus honesty is attained.
Knowing others is wisdom, knowing yourself is Enlightenment.
Be content with what you have; rejoice in the way things are. When you realize there is nothing lacking, the whole world belongs to you.
The key to growth is the introduction of higher dimensions of consciousness into our awareness.
If you realize that all things change, there is nothing you will try to hold on to. If you are not afraid of dying, there is nothing you cannot achieve.
If you would take, you must first give, this is the beginning of intelligence.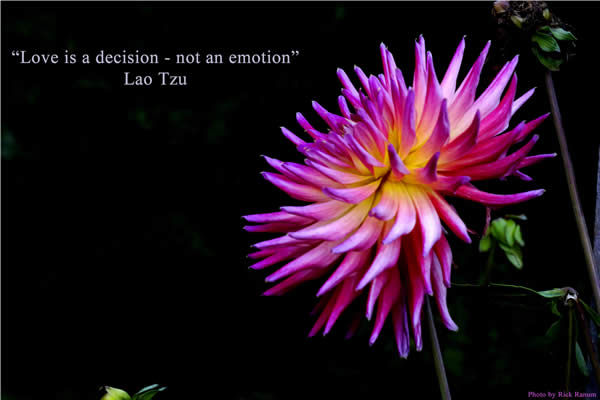 Jesus
So now I am giving you a new commandment: Love each other. Just as I have loved you, you should love each other.
If you forgive those who sin against you, your heavenly Father will forgive you.
Do unto others as you would have them do unto you.
Edgar Cayce
Soul development should take precedence over all things.
For, thoughts are things.
For as we forgive, we are forgiven.
Individuals do not meet by chance. They are necessary for the experiences of others, though they may not always use their opportunities in a spiritual way or manner.
If you learn music you'll learn most all there is to know.
You get to heaven on the arms of people you have helped. Birth in the physical is death in the spiritual.
Death in the physical is birth in the spiritual.
Oneness of God, oneness of man's relation, oneness of force, oneness of time, oneness of purpose. Oneness in every effort- Oneness- Oneness!